April
To receive a new writer's quotation as they are posted, click on the photograph and you will be taken to my It's All About the Words facebook page and click "Like."
To learn more about the writer, the name of the writer is linked to to the writer's website, full biography or, occasionally, the best article I could locate online.
In the event I have more than one great option, I usually decide not to choose between them.
Here's looking at you, PJ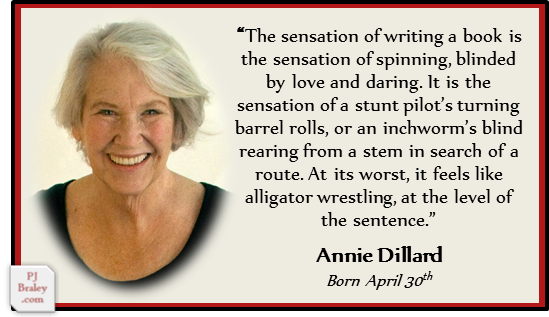 Annie Dillard, American writer and poet.
Rodney Marvin "Rod" McKuen, American songwriter and poet. Nominated for two Academy Awards and a Pulitzer for his music compositions.
Humphrey William Bouverie Carpenter, award-winning English biographer and writer.
Nelle Harper Lee, American writer. Recipient of 1961 Pulitzer Prize for "To Kill a Mockingbird."
Stephen Russell Davies, OBE, aka Russell T Davies, Welsh writer and  screenwriter.
Cecil Day-Lewis, CBE, Anglo-Irish poet and the Poet Laureate of the United Kingdom from 1968 until his death in 1972; aka Nicholas Blake, mystery writer.
Bernard Malamud, American writer. Recipient of 1967 Pulitzer Prize for fiction.
James Martin Fenton, FRSL FRSA, English writer, poet, and journalist.
Damon Laurence Lindelof, American writer and screenwriter.
William Shakespeare, English poet and playwright.
Guillermo Cabrera Infante, Cuban writer, translator, and screenwriter.
Charlotte Brontë (aka Currer Bell), English novelist and poet.
Sir Antony Rupert Jay, CBE CVO, English writer, broadcaster, and director.
Richard Arthur Warren Hughes OBE, British writer, poet, and playwright.
Thomas Nigel Kneale, award-winning British writer and screenwriter.
Isak Dinesen aka Baroness Karen von Blixen-Finecke, née Karen Christenze Dinesen, Danish writer.
Anatole France (Jacques Anatole Thibault), French writer, journalist, and poet. Recipient of the Nobel Prize in Literature 1921.
Henry James, OM, American writer and playwright, regarded as one of the key figures of 19th-century literary realism.
Daniel Clowes, American writer, cartoonist, illustrator, and screenwriter.
Thomas Jefferson, American Founding Father,  principal author of the Declaration of Independence, and third president of the United States.
Samuel Barclay Beckett, Irish avant-garde writer, playwright, and poet. Recipient of the 1969 Nobel Prize for Literature.
Thomas Leo Clancy, Jr., best-selling American writer and video game designer.
Dorothy Allison, American writer.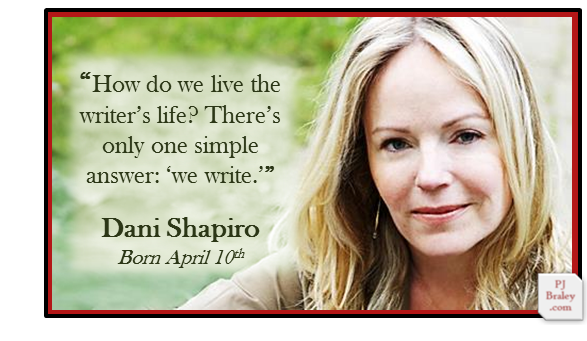 Daneile Joyce "Dani" Shapiro, American writer. 
Charles Pierre Baudelaire, French poet and writer. Acclaimed pioneering translator of Edgar Allan Poe.
Barbara Kingsolver, American writer and poet.
Iris Johansen, American writer.
Dudley Nichols, award-winning American writer, lyricist, and screenwriter. Academy Award recipient, 1936.
Anthony Horowitz, OBE, award-winning English writer and screenwriter.
Maya Angelou, award-winning American writer and poet. Recipient of the National Medal of Arts (2000) and the Presidential Medal of Freedom (2011).
Henry Robinson Luce, American journalist.
Joan D. Vinge, American author, recipient of the Hugo Award for Best Novel.
Anne McCaffrey, American-born Irish writer.