To Desiderius
When Desiderius Erasmus died in 1536, he left (in his will) small sums of money to be given to certain young women for their dowries so they could marry. 
I often wonder who they were...PJ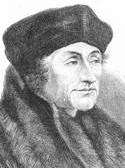 To Desiderius, who always knew…
by PJ Braley 10/27/2016
In Basel the great humanist, quill in his hand,
abandoned by a world he could not understand,
shouted for the village boy, who patiently stood
to gather the pages (face shrouded by a hood).
Picking them up carefully from the desk and floor
he put them in order, and then waited for more.
When the monk retired it was always too late
for the boy to go home, so he sat near the grate
and looking at the pages, pleasure blushed his cheeks
as he read every word in both Latin and Greek.
'Fore the morning sun rose and the parish awoke
he walked all the way home wrapped up in his cloak.
Holding aloft a lantern to mark the crossroads
a father waits for his daughter dressed in boy's clothes.
Entering the house, she pulled the coins from her sleeve.
He threw them in the fire, vexed that she did not see
that by keeping the money it somehow seemed right
for her to be serving that monk both day and night.
"I do it for the words," she'd said time and again.
"Before they go into the world, they're in my hands.
He thinks I am a boy, the disguise is complete
(the daughter of a protestant must be discreet!),
and there is nothing here that means as much to me
as those pennies you treat so contemptuously.
You do not realize that five centuries hence
writers will envy me those few copper pence."
Her father demanded (because he feared the shame),
"You dare cherish a love that cannot share his name?"
"Love for him or for his words?" she asked with a grin.
"What are you saying? How can his words not be him?"
With wisdom and clarity, she tilted her head.
"Is the water the same as the fountain?" she said,
"Is a bird just its song? Or a flower, its scent?"
"No," he admitted, "'tis true, they are different."
"Yes, but try to separate them and please explain."
"No," he said defeated, "they can't be torn in twain."
"It is all about the words," she kindly went on,
"Fall from his hands to mine, like the water, the song,
the fragrance of heaven and the warmth of the earth.
I hold his words in my hands…
I read them first."